Metal RGB/Colorful Light | TC316A-RGB
Specification:
| | |
| --- | --- |
| Model: | TC316A-RGB |
| LED: | 316pcs (140pcs RGB LEDs and 176pcs Warm and Cold light LEDs) |
| Max Illumination: | 2960 LUX (0.5M) |
| Battery: | Build-in Li-polymer 7.4V 3200mAh |
| Max Power: | 20W |
| Color Temperature: | 2600K-12000K (±250K) |
| Color Rendering: | CRI>97 |
| Charging: | USB-C 5V 9V Fast Charging |
| Charging Time: | 180 minutes |
| Brightness Range: | 0%-100% |
| Working Temperature: | -10-35°C |
| Storage temperature: | -10-60°C |
| Material: | Aluminum Alloy |
Description
Features
Specification
Product Tags
---
TC136A-RGB Folding 2-Pack RGB Video Camera Light, Double-Sided Swivel LED Video Photography Light 2600-12000K Light Panels,Built-in Rechargeable Battery 360° Full Color 12 Light Effects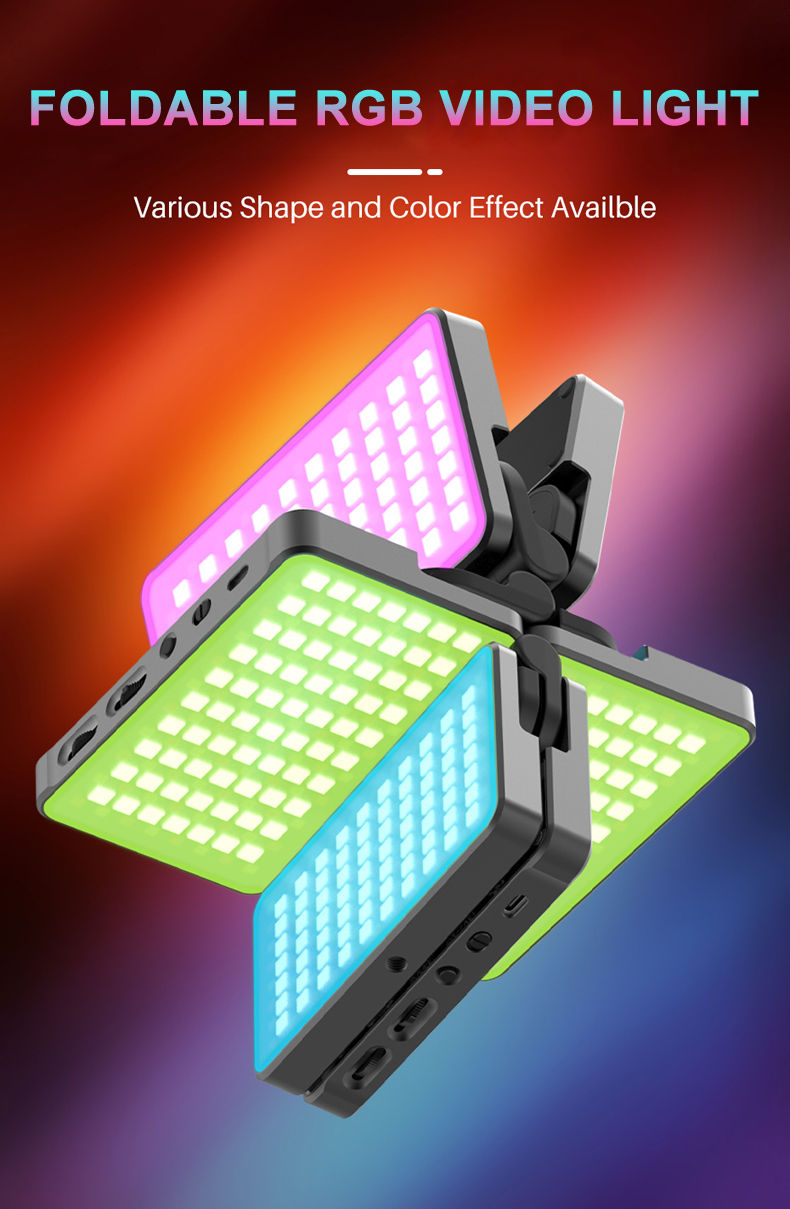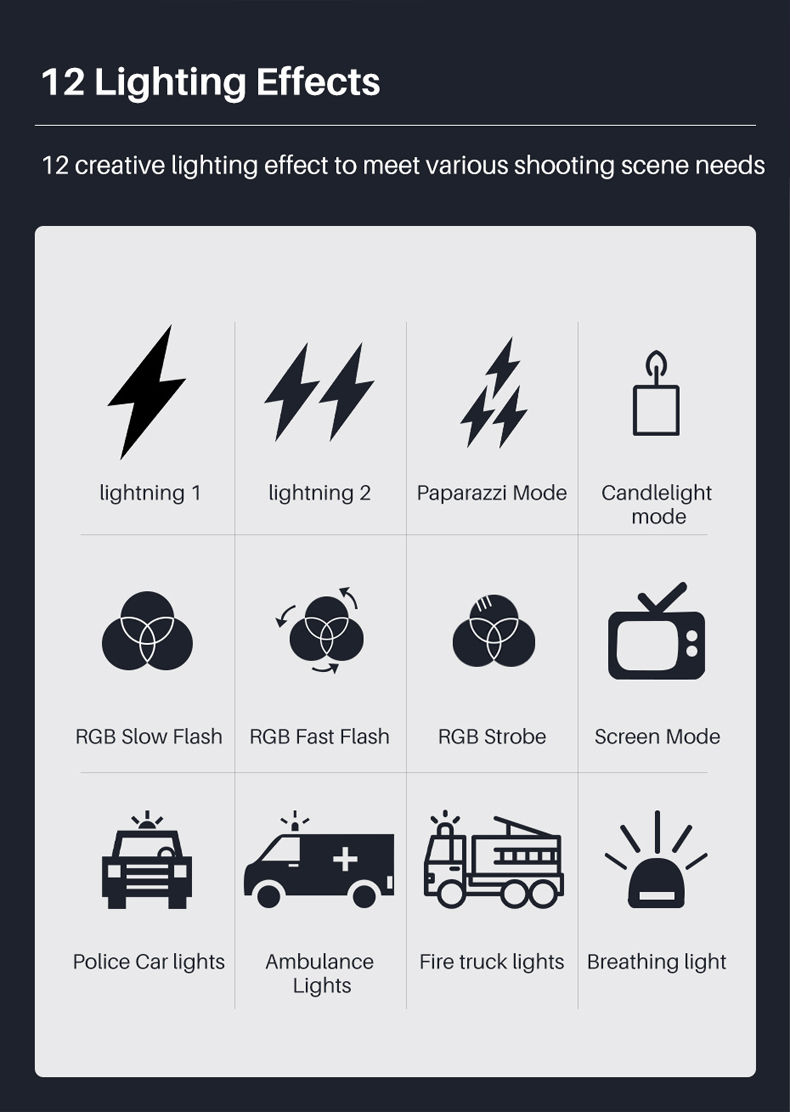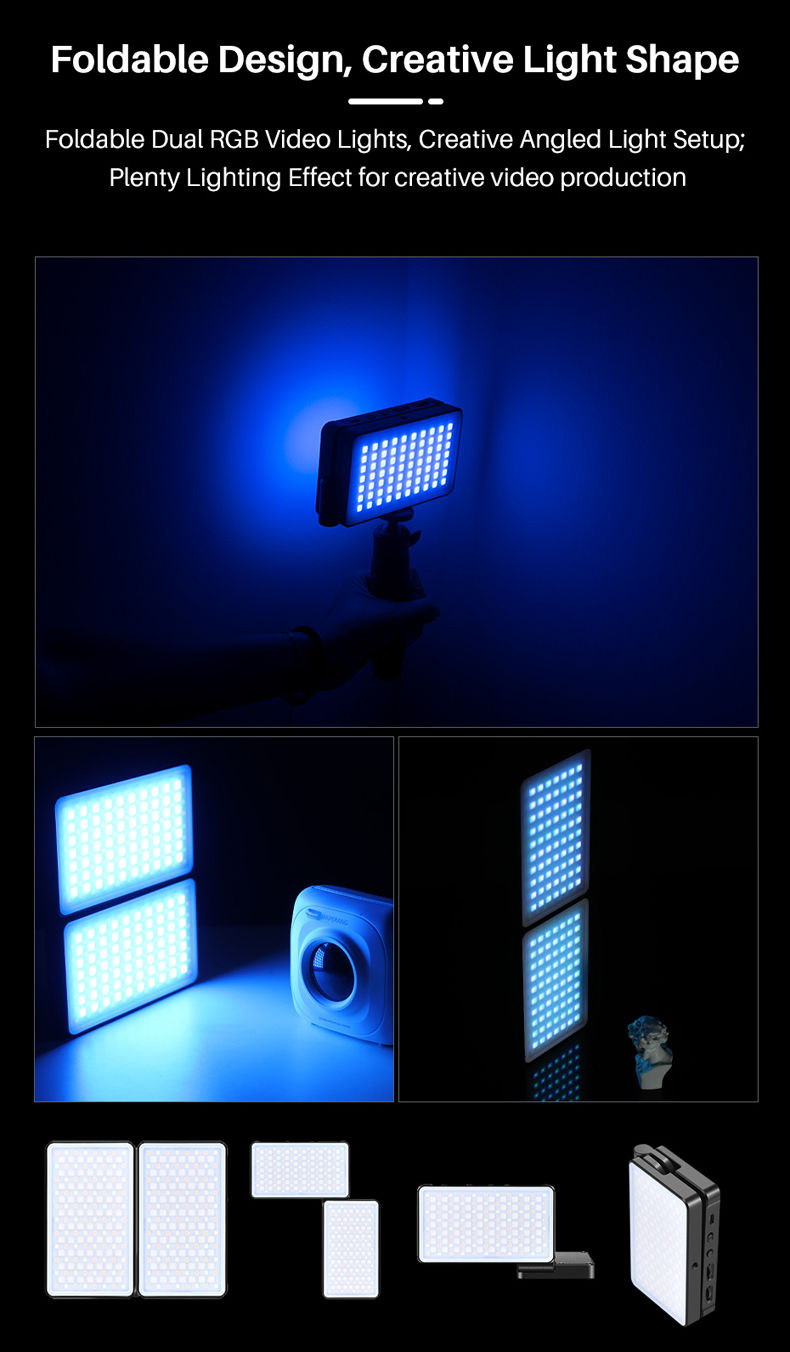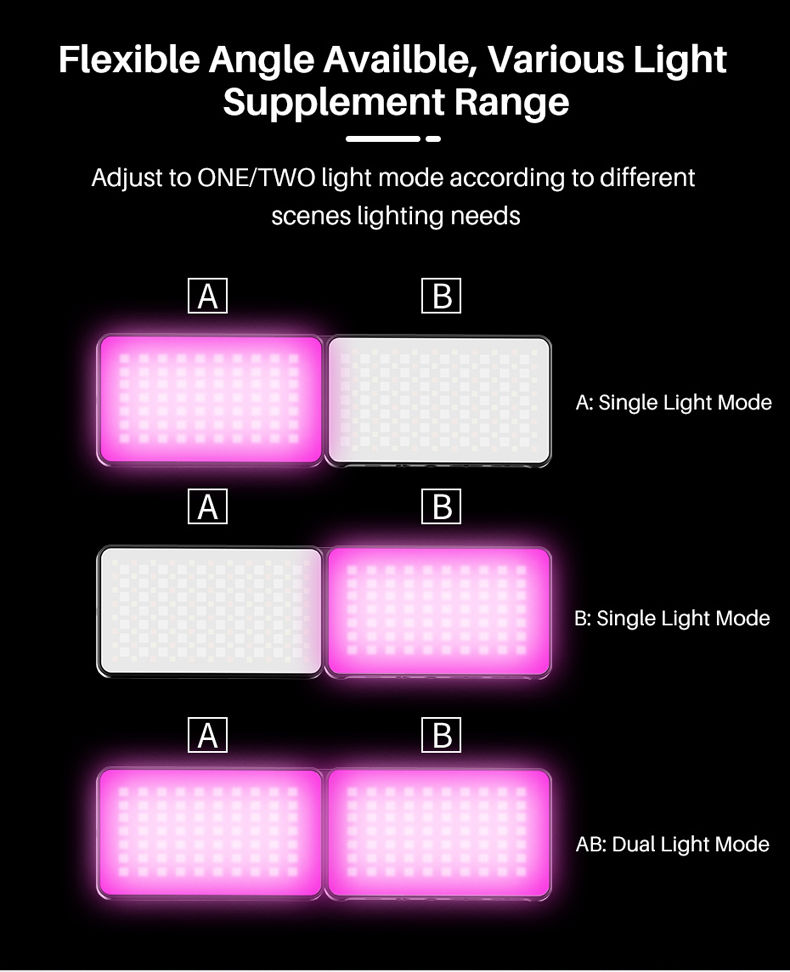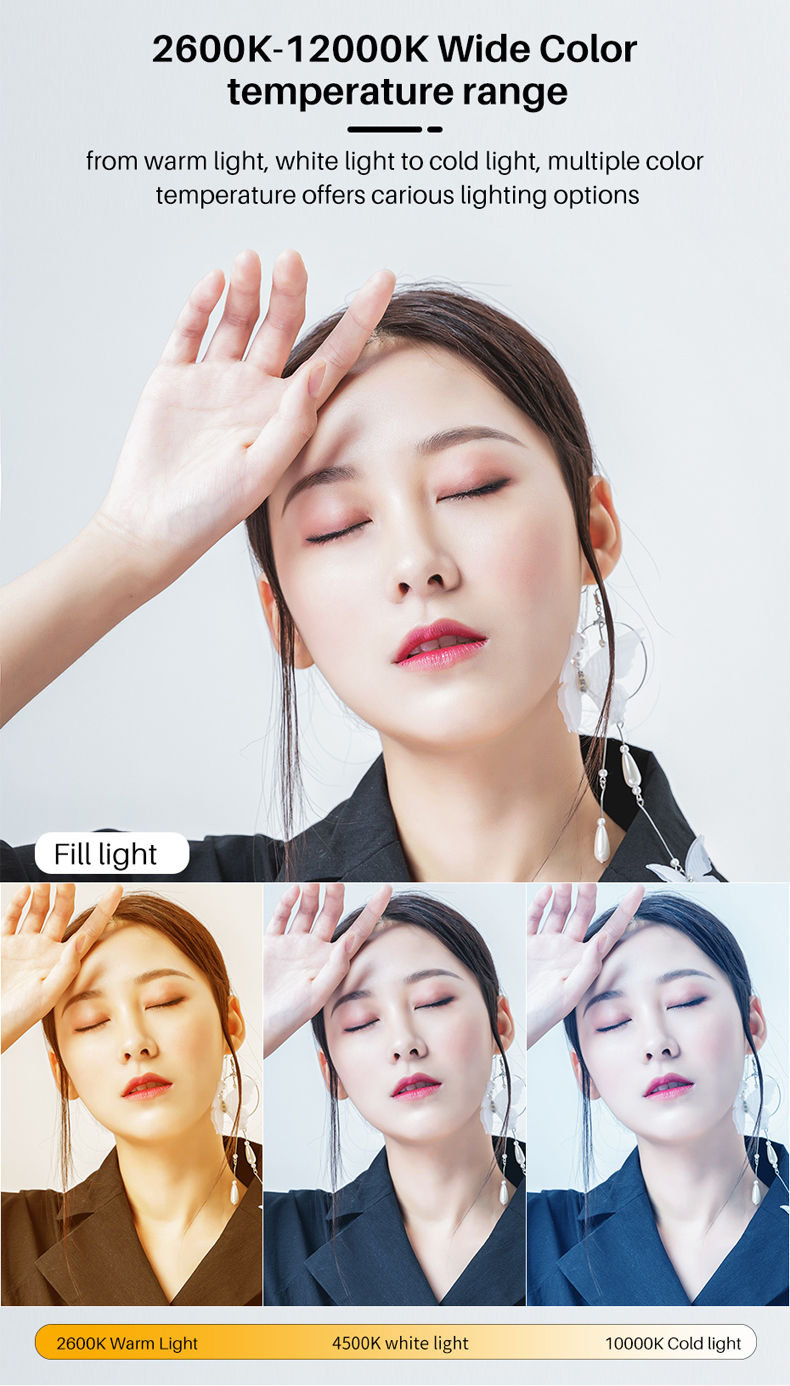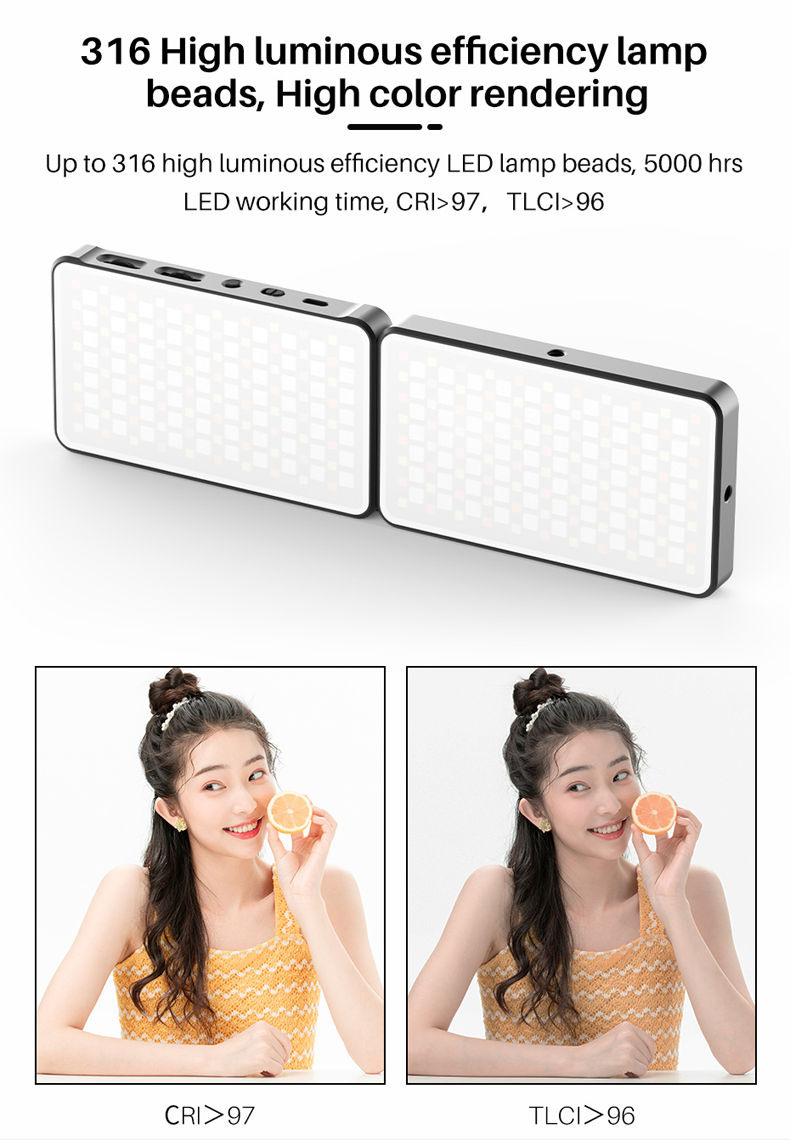 ---
Previous:
TA184 Thin Rectangle Shape Photo Light
---
---
This is a new generation of all-aluminum body fold-able RGB photography light with exquisite and compact design and easy operation. With 360 colors and 100-level saturation adjustment and dual-color temperature lamp beads, the fold-able RGB photography light offers various colors and scenes. This LED Photography Light applies high-quality, high-lumen, high-display LED lamp beads to make soft and even light and more realistic colors. Also, this light provides 12 commonly light effect scene mode simulations. With built-in high-capacity and lithium battery guarantees the long battery life. Equipped with hot shoe bracket, the light can be fixed in multiple directions and angles. The muti-functional, multi-purpose photography light is the must shooting equipment for live podcast, video, interview, portraits, weddings, macros, creations.
• [2 Pack Video Photography Lights] Unique Design,Dual LED Video Lights connected with a hinge,both can be folded and swivel for multi-direction.Three 1/4″screw holes in the body,one cold shoe nut,another one hot shoe adapter with adjustable ball head,allows you to position and meet your various video/photography demands.
• [36000 Colors 0-360° Color Cycle Inspires creativity] High lumen 2960Lux@0.5m,Hue adjustable from 0 degree -360 degree;Color Saturation adjustable from 0-100,CRI>97,TLCI>96 Brightness from 0%-100% dim-able; Color temperature from 2600K(warm) to 12000K(cold). OLED display offers accurate readings and easy to operate with the buttons/knobs.
• [Support Two Lights Work Simultaneously]Built-in 7.4V 3200mAh rechargeable battery,USB Type-C charging port,it can be fully charged in 3 hours with 9V,supports full power 165 minutes working with only A or B panel at 100% brightness,105 minutes working time with both A and B panel lights,it will be longer with lower brightness.
• [Product Features]Adopts two-color temperature lamp beads 316pcs,high quality and high definition.Two panel video lights together is still compact and lightweight,only 13.05oz for two,4.92inch*2.83inch*1.22inch(size) is suitable for carrying even in pocket,it is perfect for daily photography, video shooting, Youtube, live streaming,etc.It can also stand on its own,which is good for desktop lighting.
---
Model: TC316A-RGB
LED: 316pcs (140pcs RGB LEDs and 176pcs Warm and Cold light LEDs)
Max Illumination: 2960 LUX (0.5M)
Battery: Build-in Li-polymer 7.4V 3200mAh
Max Power: 20W
Color Temperature: 2600K-12000K (±250K)
Color Rendering: CRI>97
Working time: Around 105 minutes with two light panels;165 minutes with one panel (working time can be longer than 105/165 minutes when the brightness under 100%)
Charging: USB-C 5V 9V Fast Charging 
Charging Time:180 minutes
Brightness Range: 0%-100%
Working Temperature: -10-35°C
Storage temperature: -10-60°C
Swivel: Multi-angle for both or fold-able
Material: Aluminum Alloy
Net weight: 370g(0.82lb)
Size: 125.6*80.7*31mm(4.92inch*2.83inch*1.22inch)